The Problem
Overflowing and smelly marine byproduct bins at fishing boat ramps are a common sight along the coast and a big problem for Councils and the community. There is no source separation of the marine byproducts and it is mixed with general waste and taken to landfill where it contributes to methane gas generation.
As keen fishermen themselves, Ocean2Earth Australia founders Tim and Kyran Crane often encountered overflowing fish bins at fishing boat ramps or people throwing fish waste back into the ocean, causing public health and amenity issues.
Current arrangements mean the burden is often left to local councils, who in many cases do not have the resources or facilities to manage marine waste appropriately.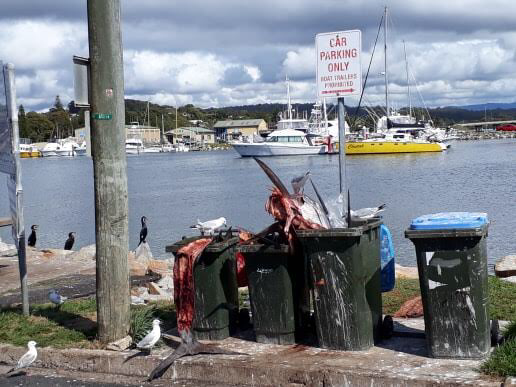 The Solution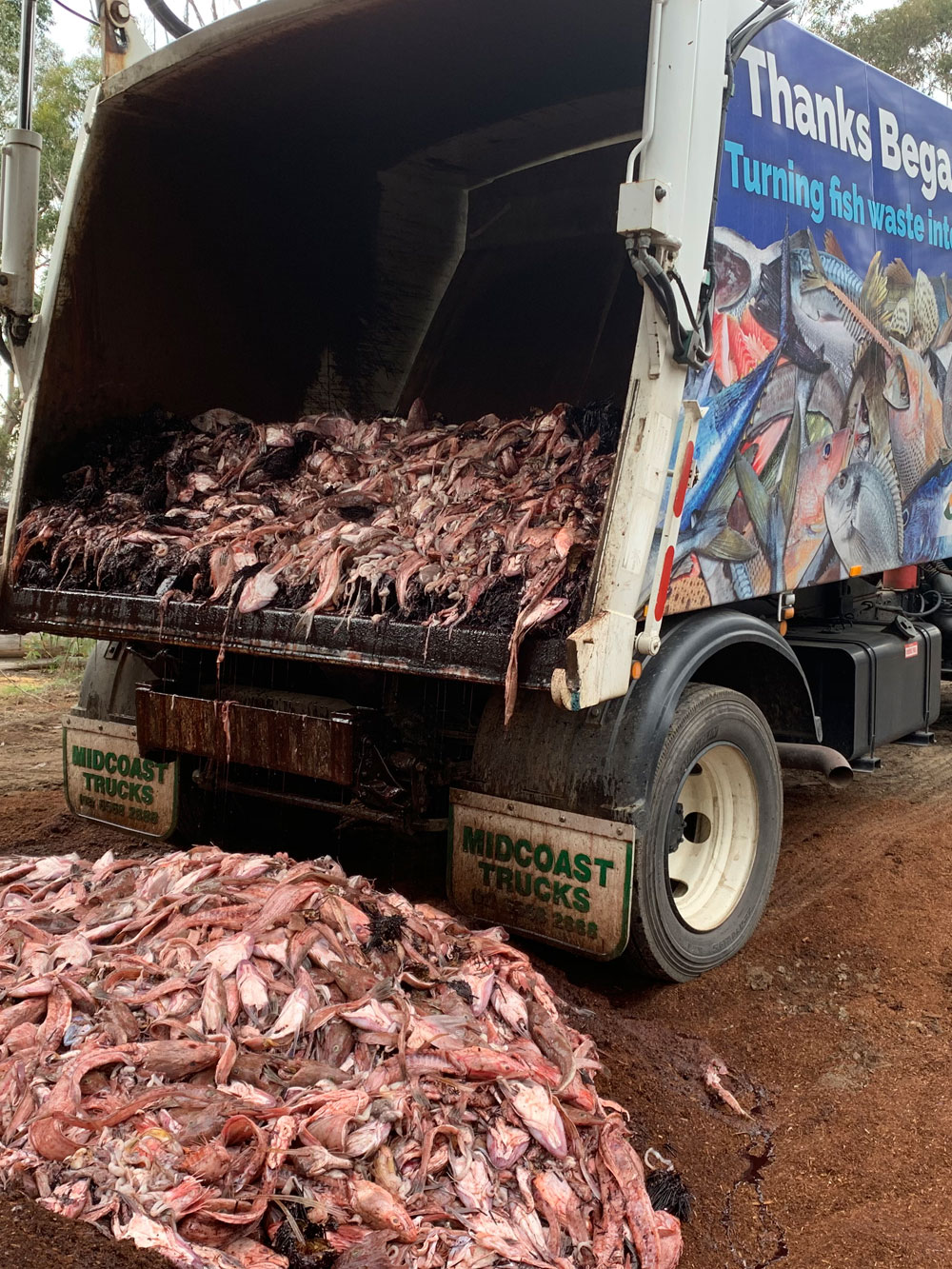 Ocean2Earth Australia was formed to turn a marine byproducts into a valuable resource and at the same time, reduce the amount of marine waste going into landfill.
Starting with fishing boat ramps and seafood processors in Bega Valley Shire, Ocean2Earth Australia is emptying blue marine waste bins provided at the ramps, decontaminating what they collect by hand, then using an innovative 100% natural composting technique to transform the waste into high quality naturally composted sea minerals for garden plants.
The long-term goal is to expand Ocean2earth Australia to process marine byproducts from boat ramps, seafood processors and aquaculture facilities right along the NSW coast.
Ocean2earth are currently collecting fish byproducts from specially-marked blue bins at boat ramps at:
Beauty Point (Wallaga Lake)
Bermagui Harbour
Bermagui River
Quarantine Bay, Eden
Pambula Lake, Broadwater
Kianinny, Tathra
Mogareeka
Bega Valley Shire Council has also installed new red (landfill) and yellow (recycling) bins at the ramps to help make it easier for people to choose the right bin.
The Benefits
Significant reduction in marine byproducts being added to landfill
Production of an environmentally-friendly, organic, high-value, 100% naturally composted sea minerals product which is being recycled back into the environment as a garden plant product
Reducing odour and public health issues from rotting fish offal and marine waste at public fishing boat ramps
A holistic and reliable solution to a large-scale and ongoing state-wide issue, which is currently addressed by sending valuable marine byproducts to landfill
A service to the aquaculture industry and seafood processing plants
Reduction in the number of sharks, stingrays and other undesirable aquatic creatures around popular swimming areas
Assurance for fishers that clean fish waste disposal facilities will be provided
Assurance of clean aquatic areas for swimmers and snorkelers
Assurance that State and Local Government laws and policies can be regulated because an appropriate solution to marine waste has been provided
Reduction in 'bush' and 'sea' dumping, particularly large pelagic fish carcasses
Produces a clean, environmentally friendly and naturally composted sea mineral product to be sold back to the public, contributing to a circular economy
Carbon sequestration
Climate change mitigation
Job creation
A pickup service for fish kills or seaweed clean-ups on beaches